Comments
Take the roaring out of snoring !
Snoring, a problem confronting many of us. Do we put up with snoring or do we seek some solace and peace by placing our faith in one of the many snoring relief products that are on the market. For some reason known only to my colleagues yours truely struck the jackpot and was awarded the grand prize of reviewing snorebuster a plesant tasting peppermint spray that works by coating the soft palate and uvula at the back of the throat. this helps prevent the vibrations that cause snoring, making it easier for one to breathe.
Snorebuster has no side effects, leaves your breath fresh in the morning and is safe for children to use.

We found the things we liked were .. Fast relief ..No side effects..Natural ingredients..vitamin enriched..and fresh breath .. Lydia White..



Products
SnoreBuster ..
Snoring relief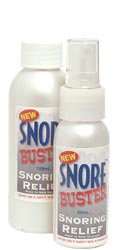 Snorebuster is manufactured in New Zealand and is marketed world wide. Packaging is clean and eye catching, sealed for your protection and easy to use. The product worked a treat, directions were easy to read and overall we were impressed.

Highly recommended ..
- Revied by Lydia White

If you would like more info on Snorebuster just click on the above pack .. ed ..





Properties
What makes Snorebuster
tick ..
Snorebuster uses lacton Suspension Technology which holds the natural ingredients in suspension.Your soft tissues remain coated throughout the long night hours, allowing you and your love one to sleep peacefully.
Snorebuster is made from 100% natural ingredients, containing vitamin e, c, and B6, natural oils of almond, olive, peppermint, omega 3, and apricot kernel.
The information that came with the product stated the following claim .Snorebuster is shown to be 97% effective in reducing snoring noise, with over 60% of users experiencing minimal or no snoring at all.